NORDEN 901 EXPEDITION
HUSQVARNA MOTORCYCLES LIFTS THE COVERS OFF EXCITING NEW TOURING MACHINE
Husqvarna Motorcycles is excited to unveil the Norden 901 Expedition – a new and highly capable touring machine designed to offer endless exploration. Expertly assembled with premium Technical Accessories to improve ease of use, the Norden 901 Expedition comes complete with long travel WP XPLOR suspension to ensure all riders can explore further for longer. The new travel motorcycle is finished with a striking new colour scheme to signify its outstanding capabilities both on and offroad.
Guaranteeing the Norden 901 Expedition excels across the roughest terrain, the new offroad-specific WP XPLOR suspension with 240 mm of travel is fitted to both the front and rear of the motorcycle. This premium, fully adjustable suspension gives riders the opportunity to fine-tune the compression, rebound, and preload settings to create a personalised set-up based on their individual preferences.
Contributing to maximum rider comfort on all long-distance adventures, the Norden 901 Expedition is equipped with many of Husqvarna Motorcycles' Technical Accessories as standard. For early morning starts and especially beneficial for riders exploring colder climates, the adjustable heated grips and rider's seat provide instant warmth. Additionally, rider fatigue is reduced considerably with the fitment of a new Touring Windshield. Deflecting wind around the motorcycle, particularly at higher speeds, riders are fully protected and able to discover new worlds in complete comfort.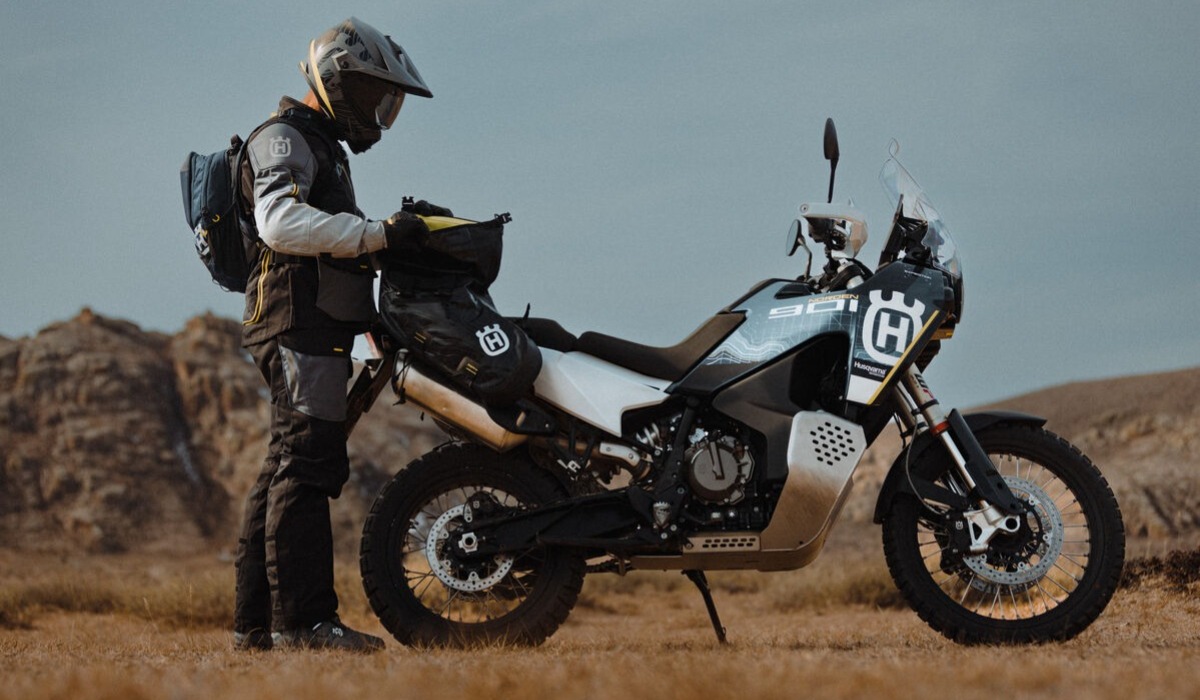 Turning journeys into expeditions, this convenient new travel motorcycle is built to begin any adventure straight from the showroom thanks to the pre-fitted Side Bag Set. This neat luggage solution integrates perfectly with the bodywork and offers up to 36 litres of storage capacity.
Powered by an 889 cc parallel-twin engine producing 105 hp and 100 Nm of torque, the Norden 901 Expedition offers a broad spread of smooth, controllable power, which is particularly efficient across challenging offroad terrain. Housed inside the steel trellis frame, the versatile engine works together with the chromium-molybdenum chassis to provide exceptional agility, rider feedback, and comfort throughout the longest of riding days.
Completing the build and improving ease-of-maintenance and protection on the longest of riding days, a new centre stand, engine guard, and Connectivity Unit are fitted as standard to enhance every adventure. With the Ride Husqvarna Motorcycles app installed onto a smartphone, and with the device paired to the motorcycle's Connectivity Unit via Bluetooth, riders will benefit from downloadable maps, Turn-by-Turn+ navigation, Call-In, Call-Out, and view real-time traffic information. Music selection and volume can also be controlled safely while riding using the handlebar-mounted buttons.
Technical highlights:
WP XPLOR suspension offers longer travel (240 mm) and full adjustability
Heated grips and rider seat for cold weather comfort
Touring Windshield for reduced fatigue on extended rides
Side Bag Set offers convenient storage
Centre Stand for easier maintenance
Heavy duty Skid Plate for complete protection of tank and engine
Connectivity Unit provides Turn-by-Turn+ navigation, Call-In, Call-Out, and music selection from the rider's smartphone
Ride Husqvarna Motorcycles app available from Apple AppStore and Google Playstore
Chromium-molybdenum steel trellis frame with engine as stressed member889 cc parallel-twin engine with 105 hp peak power and 100 Nm of torque
Four selectable ride modes (Street, Rain, Offroad, Explorer)
Cutting-edge, switchable cornering ABS with Offroad mode
Easy Shift function
Cornering-sensitive traction control allows for nine levels of adjustable rear wheel slip (in Explorer mode)
Power Assist Slipper Clutch (PASC)
Tubeless spoked wheels in offroad dimensions and Pirelli Scorpion Rally STR tyres for maximum performance on the street and offroad
Large capacity 19-litre fuel tank provides an extended range of up to 400 km
To be fully prepared for all conditions, the Functional Apparel Collection features riding gear produced for the Norden rider that delivers the highest levels of protection, functionality, and comfort. In addition, further customisation of the Norden 901 Expedition can be achieved with the extensive line-up of Technical Accessories designed to add protection, performance, and visual highlights.
Husqvarna Motorcycles' 2023 Norden 901 Expedition will be available from March 2023.